By Søren La Cour Jensen, MA
Ivalo Katrine Birthe Foget Olsvig, MA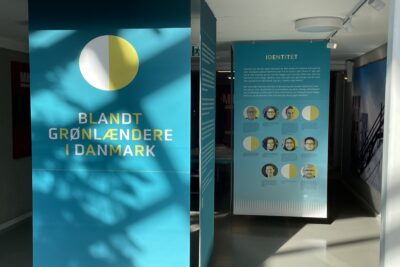 Through interviews with Greenlandic people and people with a Greenlandic background (herein collectively referred to as Greenlanders) in Denmark, we investigate how they experience life in Denmark and the interaction with the majority Danish population. To learn more about this, interviews with 15 participants were conducted, focusing on their sense of identity, the migration between the two countries, and how the fusion of the Greenlandic and Danish cultures has affected their lives. The interviews explore how the participants perceive themselves, and how they feel that others perceive them. Often, prejudices, misunderstandings and racism, at both an individual and a social level, occur in the interaction between Greenlanders and Danes. However, the majority of Greenlanders also express a positive curiosity about cultural meetings alongside an interest in, and keenness for, preserving the Greenlandic culture and traditions in Denmark. 
The Greenlandic–Danish shared history and relationship 
The shared history of the Greenlandic–Danish relationship goes back 300 years. It has almost exclusively involved an unequal balance of power. In 1721, Denmark colonised Greenland and for the next 232 years, Greenland remained a Danish colony, a closed and restricted territory ruled from Copenhagen by the Danish government. During those colonial times, Greenland's population lived in fishing and hunting communities. After the Second World War, the pressure from the United Nations towards global de-colonisation grew. Through a referendum in 1953, the Danish government changed Greenland's status: no longer a Danish colony, it became a Danish county, which entitled the Greenlandic population to receive full Danish citizenship. In the years that followed, Denmark and Greenland worked together to create the Home Rule law, put in place in 1979. Thirty years later, in 2009, Greenland established self-government, and Greenlanders became recognised as a people in their own right. To this day, Denmark still manages certain areas of responsibility on behalf of Greenland, e.g. defence, security and foreign policy. For this reason, Greenland also has two representatives in the Danish parliament, which consists of 179 members in total. Today, Greenland, together with the Faroe Islands and Denmark, is part of The Kingdom of Denmark. Nevertheless, this imbalance in the power relationship over the centuries still has a deep impact on the Danish mentality toward Greenland, and particularly with regard to Greenlandic society and its structure. Today there are many Greenlanders living in Denmark, having moved here because of work, education and/or family relations [1]Gulløv, Hans Christian. Danmark og kolonierne: Grønland: Den Arktiske Koloni. Copenhagen: Gads Forlag A/S, 2017. Print.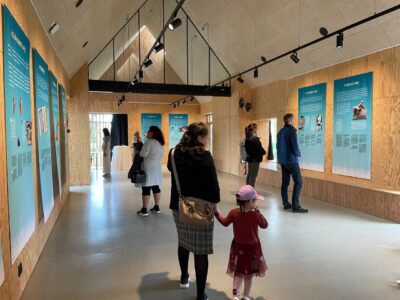 The project and considerations 
Our project studies how processes of affiliation are involved in individual identity creation. The social and cultural markers involved can be quite diverse, but noticeable ones included are ethnicity, language and cultural behaviour. In addition, the settings in which processes of identity construction and affiliation or disaffiliation are happening can be diverse, and they include a variety of structural, social and public contexts. These processes are substantial for Greenlanders living in Denmark. Especially since the Danish-driven modernisation of Greenland starting in the late 1950s, and after a number of educational projects by the Danish government aimed towards Danification of the Greenlandic population, the issues of cultural affiliation and identity within the Greenlandic population in Denmark have been significant [2]Heinrich, Jens. Forsoningskommissionen og fortiden som koloni. Baggrund, 28 November 2014, visited 30 August 2021: https://baggrund.com/2014/11/28/forsoningskommissionen-og-fortiden-som-koloni/.
The direct social interaction between Greenlanders and Danes is the most important factor in the construction, challenge and defence of identity for the participants. The project focuses on the interaction between the Greenlanders living in Denmark and the Danish majority, as well as the resulting reactions and feelings.  The interactions can be challenging and can often be accompanied by underlying preconceived notions. By documenting and sharing these situations and reactions, the project is designed to create a foundation of better understanding and preparedness for interactions among people of different backgrounds and with different personal stories.
Our participants
The interview process was difficult due to the Covid-19 pandemic. When we reached out to the Greenlandic population in Denmark, 20 people responded, 15 of whom went on to volunteer as participants. The five that declined had different reasons for doing so, either owing to challenging personal situations related to the corona virus, which made it difficult to cope with the project, or concerns about family or friends. 
Out of the group of participants, another four chose to withdraw after they had been interviewed. They were not ready to share their stories because they felt that the pandemic lockdown and other restrictions had emotionally affected, if not altered the situation. Thus, we now have 11 stories from Greenlandic participants in Denmark. Three men and eight women with ages spanning from the early 20s (some did not want to disclose their exact age, to preserve their anonymity) to 81. Due to pandemic restrictions, four of the interviews were conducted via Zoom, but, fortunately, we did manage to complete seven interviews face-to-face.
The interviews
All but one of the participants are of Greenlandic descent and they are mostly living permanently in Denmark. The interviews were directed toward their personal histories, their experiences concerning their affiliation, any prejudice or racism they have encountered, and how these experiences affect their everyday lives. Furthermore, questions about the circumstances or situations in which they feel more Greenlandic, more Greenlandic-Danish or more Danish were essential to understanding the fluid concept of identity.
The framework for the interviews was a shared interview guide for the entire Identity on the Line project. The guide was structured as a common questionnaire to enable all partners to make comparative studies of the interviews. The partners jointly constructed this framework at the beginning of the project. Following the outline in the interview guide, we conducted qualitative interviews with our participants. 
We conducted the interviews in an environment that was as safe, friendly and cosy as possible. If not on Zoom, we met with the participants in their own homes, which was the preference, or, if the participant wished, at the museum or one of the Greenlandic Houses, as these locations offered a safe and familiar environment. All the interviews were digitally recorded, transcribed, reviewed and revised. We then handed the transcripts to the participants for them to read and edit the text, adding and deleting where they saw fit. Eventually, the participants approved the interviews and their further use within the project.
The Greenlandic Houses and The Immigrant Museum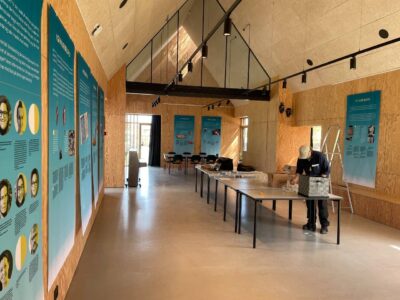 According to official figures from Statistics Denmark, in 2021 there were 16,730 Greenlanders living in Denmark. That said, the figure is difficult to calculate because Greenlanders have Danish citizenship, so when is a Greenlander considered a Greenlander? One might have a Danish father and a Greenlandic mother, or have been born in Denmark to Greenlandic parents, or born in Greenland to Danish parents. What then defines a Greenlander? 
Nevertheless, to reach out to Greenlanders living in Denmark, we collaborated with the Greenlandic Houses in the four major Danish cities: Copenhagen, Aarhus, Odense and Aalborg. These Houses have a number of different functions, and the mainly Greenlandic users see them as places to network, to engage in cultural exchange and social interaction, and to access social, judicial and work-related professional counselling.
Another external partner for the Danish part of the project is The Immigrant Museum. Situated in Farum, close to Copenhagen, it is the only museum in Denmark where 500 years of Danish immigrant history is being researched and exhibited. It places this very current topic of migration and immigration into a historical context, and gives visitors a broader and more nuanced picture of immigration to Denmark. The Immigrant Museum has a very active educational unit and an approach toward schools and teaching projects from which we drew inspiration and practical experience.
Social media and outreach 
The four Greenlandic Houses in Denmark and other social, educational and cultural networks were beneficial to our efforts in reaching out to our participants. We made our project visible on our website, through emails to Greenlandic associations throughout the country, the Facebook pages of The House of Knud Rasmussen and the Greenlandic Houses. We had posters and flyers in all four Greenlandic Houses, and made YouTube videos, which we shared on social media platforms. We reached out to different online groups for Greenlandic people in Denmark, and shared the project within our professional museum networks.
The interviews – identity and no-man's-land 
Some of the main topics we addressed in the interviews were, of course, identity but also more specific topics such as memories linked to the reasons for moving to Denmark, what actually happened during the process of moving, what it meant to have family ties in both countries, what was perceived as Danish and as Greenlandic, what traditions they uphold, how they were influenced by the Greenlandic and Danish languages, and what significance having a Greenlandic appearance could have when interacting with the Danish majority.
In several interviews, the participants expressed similar feelings of being split between Greenlandic and Danish affiliations:
When I'm in Denmark, I'm a Greenlander, and when I'm in Greenland, I'm a Dane. And I get hurt every time, because I'm both. You cannot take one or the other out.
– Naja, a Greenlandic-Danish-Faroese woman
Another participant explained her experiences in this way: 
I was the Dane who was not a 'real Dane' and was therefore not a part of Danish communities, but I also had no contact with the Greenlandic community, because I was not a 'real Greenlander' and was not born in Greenland. I was in no-man's-land, and somehow I feel like I've been in that no-man's-land for most of my life.
– Klara-Sofie Rosing Birkblad, aged 56, a Greenlandic-Danish woman
However, as mentioned above, participants represent a broad and diverse group of ages and personal histories. What they all have in common is their affiliation with Greenland and their experience of standing out and being different from the Danish majority. Identity and affiliation are the most defining aspects of a person's internal and social life. Most people are not confronted with that on a daily basis; their identity is just a part of who they are and the life they lead. For others, it is a constant reminder that they are different from their surroundings, that they stand out or that they are looked upon in a way that is different from the way they see themselves.
The overall impression is that the participants define their identity in different ways, depending on the situation and context. This is not surprising as the participants are a very diverse group and are all in very different stages of their lives. For instance, one is retired after a full work life in both Greenland and Denmark and at the age of 81 is living in Denmark and feeling at home. Another is in her early 30s and has found a way to embrace her Inuit identity through her Inuit tattoos. Yet another talks about how she struggles with a split identity, and the feeling of not being at home anywhere. Nevertheless, even though they find themselves in very different situations in their lives, they still express similar experiences and reflections on their identity and being part of both a Greenlandic and a Danish culture at the same time. 
Prejudices, misunderstandings and underlying racism
We asked the participants if they had experienced prejudice in their interactions with the Danish majority population. Some had indeed experienced being judged on the basis of their Greenlandic origin, and being met with ignorance and prejudice. However, this was not always the case; just as many participants reported the opposite. The participants did not face prejudice every day, but everybody had some negative experiences based on stereotypical prejudices about Greenlanders involving things such as drinking, abuse, suicide, inequality and stereotypical assumptions about whether Greenland is a developed country. These negative experiences of Danish prejudices and stereotypes can be seen as micro-aggressions [3]Limbong, Andrew. Microaggressions Are a Big Deal: How to Talk Them Out and When to Walk Away. NPR, 9 June 2020, visited 30 August 2021: … Continue reading. Some participants experience them frequently; others face them more rarely. A few told us that they hardly even notice things like that. However, there were also examples of participants who had encountered blatant racism:
I once experienced, when we were a bunch of Greenlanders at a gas station in Holbæk, a bunch of skinheads came and [it] was very intimidating. The assistant said that it was not the first time it had happened, so he asked us to stay inside and then he would call the police. Because these skinheads truly wanted to hurt us physically because we were not white. I was really, really scared because I had never experienced it that bad before.
—Naja Motzfeldt, aged 32, a Greenlandic-Danish woman 
I have not encountered very harsh racism, apart from a few times in workplaces, for example. Some people may have had an axe to grind, and they took it out on me. For example, they called me Snow-Paki. I was called Snow-Paki when I was working at a shipyard, where people were a little rough with each other. That was the jargon at the workplace. People also often aired the prejudice that Greenlanders drink strong beer. These were people I knew, and I began to wonder why they would say such things. Why were they suddenly angry with Greenlanders?
—Per, aged 63, a Greenlandic-Danish man
With this background, many of the participants expressed the need for a project like Among Greenlanders in Denmark because it is so important to talk about these problems and to let the Danish majority know about them.
Greenlandic traditions and positive cultural meetings
It is still important to remember that these negative experiences are not predominant. The micro-aggressions coming from ignorance, prejudice and racist perceptions within the Danish majority affect the individual participants very much. Fortunately, the participants also reported many positive encounters between themselves and Danish society as a whole.
I also have positive meetings, when people are curious about Greenland, and I will be happy to talk about Greenland. It can be really nice. Especially when I meet Danes who actually know something about Greenland and then it is really cool to have conversations with that person.
—a Greenlandic woman 
I meet many who really want to go to Greenland, and also a few who have been to Greenland already and think it is a cool and beautiful country.
—Kunuunnguaq Marcussen, aged 31, a Greenlandic man 
Several of our participants keep part of their Greenlandic culture and traditions alive in Denmark. They have Greenlandic food sent from Greenland, do Greenlandic handicrafts, celebrate events with the Greenlandic Kaffemik (an open-house celebration with a Greenlandic mind set with many guests, food, cake and coffee [4]Visit Greenland, about 'Kaffemik', visited 31 August 2021: https://visitgreenland.com/articles/kaffemik-in-greenland/, read Greenlandic myths and legends, and speak and sing in the Greenlandic language. As one of our participants put it: 
On Christmas Eve, the family mixes both Danish and Greenlandic, and when we walk around the Christmas tree, one half sings in Greenlandic and the other half in Danish. We each express ourselves in the manner we know best, and I think that gives us a nice sense that everything belongs.
— Naja, a Greenlandic-Danish-Faroese woman
Results 
The most striking result of the interviews was the strong desire among our participants to talk about their situation, and how it feels to be a Greenlander in Denmark. By doing so, they wanted help to decrease ignorance about Greenland and Greenlanders in Denmark and among Danes generally. They wish for more focus on the unequal history between Greenland and Denmark, and a focus on the perceived inequality between Greenlanders and Danes. It is important for people within The Kingdom of Denmark to recognise this and take responsibility in everyday life. We can do this by reaching out and getting to know each other more profoundly. It is not only the Greenlanders that must learn about Denmark and the Danes, of course; the Danes also have to learn much more about the Greenlanders. This truth applies to all peoples and all cultural meetings. 
Through the project, it has become clear that moving from one cultural environment to another does not come without personal challenges and hardships. To move from Greenland to Denmark involves radical changes in personal, social and cultural settings. You will face excessive cultural, environmental and linguistic differences, and there will be both good and bad encounters based on interest and knowledge, but also ignorance, prejudice and sometimes direct, upfront racism.
The results of the project will be disseminated in an exhibition, in school packages and in articles. The exhibition 'Among Greenlanders in Denmark' will have its first opening at The Immigrant Museum in 2022 before travelling to the four Greenlandic Houses in turn. The school packages will be made available to schools through online access along with the articles about the project. Project materials will be part of the entire Identity on the Line project and also part of the common exhibition, school packages and articles. 
Reflections on the interviewers as part of the narrative and dissemination 
The participants defined their stories, which we have collected, within the framework of the interview guide. However, it is of crucial importance to recognise the role of the person who is interviewing the individual participant. In Among Greenlanders in Denmark, we were two curators from The House of Knud Rasmussen conducting the interviews – a female Danish-Greenlander and a male Dane. It is not easy to conclude directly in what way the interviewers affected the interviews and influenced the interaction with the interviewees, but it is important to consider any possible unintentional influence. 
Furthermore, we experienced that the participants removed more negatively charged experiences in Denmark from their stories when they reviewed them. Consequently, we did not present these parts of the narratives. Our interpretation is that the past also affects the participants' present and self-perception. Anthropologist Trond Thuen expresses it like this: 
When listening to informants recollecting past experiences and events, one is struck by the fact that they are acting in the capacity of brokers between a past as they now see it, and some representative of the outside world whose image of their past they are able to construct either partly or totally.[5]Thuen, Trond. Recollection of the Past and Categories of the Present: A Comment on the Relationship of Memory and Social Structure. Acta Borelia 1, 1990
We at the museum are extremely proud of our participants and the courage it took to share their experiences and stories about an issue as personal as their identity and their migration to Denmark. In addition, to our participants – as they say in Greenland:  "Qujanarsuaq" (Thank you very much). 
References and footnotes

↑

1
Gulløv, Hans Christian. Danmark og kolonierne: Grønland: Den Arktiske Koloni. Copenhagen: Gads Forlag A/S, 2017. Print

↑

2
Heinrich, Jens. Forsoningskommissionen og fortiden som koloni. Baggrund, 28 November 2014, visited 30 August 2021:

https://baggrund.com/2014/11/28/forsoningskommissionen-og-fortiden-som-koloni/

↑

3
Limbong, Andrew. Microaggressions Are a Big Deal: How to Talk Them Out and When to Walk Away. NPR, 9 June 2020, visited 30 August 2021:

https://www.npr.org/2020/06/08/872371063/microaggressions-are-a-big-deal-how-to-talk-them-out-and-when-to-walk-away

↑

4
Visit Greenland, about 'Kaffemik', visited 31 August 2021:

https://visitgreenland.com/articles/kaffemik-in-greenland/

↑

5
Thuen, Trond. Recollection of the Past and Categories of the Present: A Comment on the Relationship of Memory and Social Structure. Acta Borelia 1, 1990